24 Hour Rush Polyester Drawstring Bags- On Popular Demand We Have Added More
School kids are back in school and schools have completed their purchase of back to school merchandise. However with our 24 hour rush deals you can still make up for the time lost in your back to school promotions and make the most of the last lap of BTS season. On popular demand, we have added more models of our best selling polyester drawstring bags under 24 hour category.
Take a look at what we offer!
Small Hit Sports Pack Polyester: Cute and affordable, these bags will make your recipients swept off their feet literally. Choose from a range of colors and price points. Ideal for promoting youth sports teams, schools, educational centers, corporate offices and summer camps among others. Schools that may still need bags for their students can place bulk orders to make great savings. Hurry!
Quick Sling Budget Polyester: These light weight totes that can be used as backpacks will ensure a high return on investment for sports clubs and schools that wish to make these bags their marketing swag. Ideal for all budgets, these bags are designed to look good and last long. Personalize these with your brand and message to leave a lasting impression in the minds of your recipients.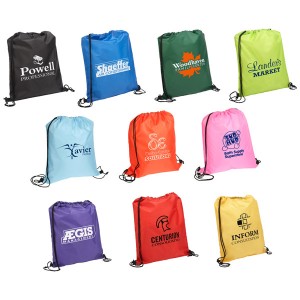 Polyester Drawstring Sport Pack: Add a sporty charm to your promotions with these trendy backpacks that will enhance the game day experience of your recipients. The generous imprint area of these logo items can be used to highlight your brand and message. It makes a perfect gift for universities, high schools, amusement parks and sports teams.
Sports Pack Front Zipper Polyester Drawstring Bags: A great grab-on-the-go bag, these trendy drawstring bags will make a perfect choice for anyone who follows an active life style. A perfect giveaway during sports events, tradeshows, corporate functions and other events, these durable and attractive logo bags are here to stay for a long time for sure.
Oriole Polyester Drawstring Cinch Backpacks: Highly popular and fashionable, these cinch bags will make a perfect budget friendly gift for community centers, athlete teams, schools and park districts. These stylish bags will look more stunning with your brand on!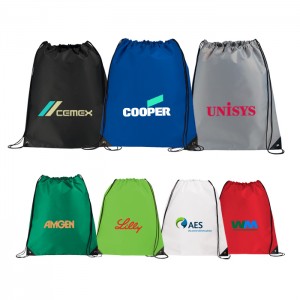 Robin Polyester Drawstring Backpacks: The smart name will sum up the smart profile of these drawstring bags. The ample storage area of these bags will make it a perfect daily use bags for schools, colleges, sports clubs, summer coaching clubs, and many others. Personalize these with your brand and message to leave a lasting impression.
Peek Polyester Drawstring Cinch Backpacks: A trendy toting bag with ample space for the daily supplies, these logo bags will make a perfect choice for everyone right from athletes, students to adventure seekers, office goers and gym goers among others. Your brand and message on these colorful bags will get maximum attention wherever your recipients go!
These durable and water resistant drawstring bags are great for all the outdoor activities and game days that fall has in store. We have a lot more under 24 hour free rush category. Shop right away; and romp home with the best deals.