Red And Green Colored Drawstring Bags – Great Gifts For Christmas Themed Events
Drawstring bags make great holiday season gifts thanks to its brilliant colors and simple drawstring design that will appeal to everyone. Businesses will love to use it as gift bags, store promotional gifts and tradeshow handouts among others considering its immense popularity and low sticker price. Well known for its casual charm, drawstring bags make excellent gender neutral gifts to connect to every genre of audience when you are not sure of the specific tastes and color choices of your recipients.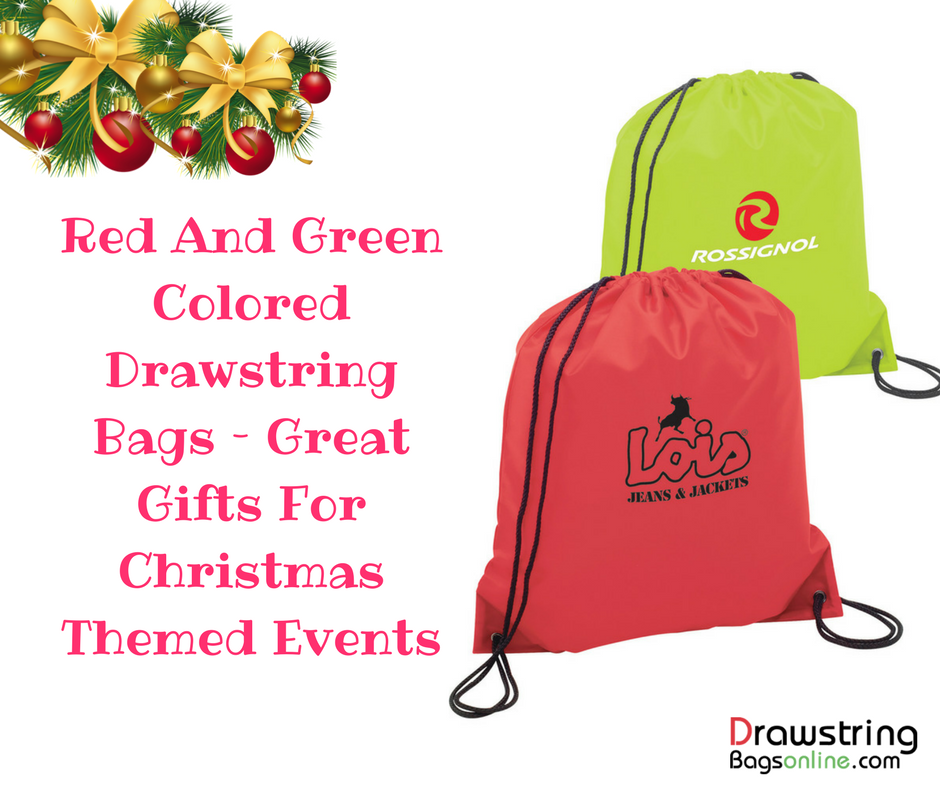 Now that the Christmas season is only a few weeks away, it makes a great time for you to think about gifts for your employees and patrons. To align with the Christmas color themes, you can choose red, green or white drawstring bags that will complement the festive colors. Well received and highly retained, these logo items will spread the holiday cheer and your message with ease.
Get started with these custom drawstring bags that will even put Santa's gifts on shame!
Red
Red denotes Holly berries/ apples on the paradise tree in Christmas. Trail Loop Drawstring Backpacks will make a great choice as these offer great storage space and a generous space for imprinting business messages. These backpacks are great to use during adventure trips, camps, outdoor sports events, and long distance traveling. Your message on these will get a wide angle display even after Christmas celebrations get over.
Sports Pack Front Zipper Polyester Drawstring Bags: Work, play or anything in between, these drawstring bags will make a great choice. Offered in a range of colors including the Christmas favorite of red, these bags will make your message stick for a long time.
Green
Color green represents the evergreen plants, like Holly, Ivy and Mistletoe that are used in Christmas decorations. Polyester Drawstring Sport Pack that sports a casual and interesting design will make a perfect gift for Christmas. Your recipients will love to carry these wherever they go and talk about it for a very long time.
The ecofriendly construction of this Non Woven Polypropylene Drawstring Knapsack will make it a great choice for green themed events, nature clubs and more. So, here is a gift item that is not just colored green but is truly green in its credentials! Go for it.
White
The color of peace and purity, White has an important role in Christmas decorations. Align your custom gift with the festive theme by handing out these white colored Small Clear Mesh Drawstring Bags which will make a great gift choice for gym, beach and game days among others. Your recipients will love these highly functional gifts that are here to stay for sure. Another choice to consider include Oriole Polyester Drawstring Cinch Backpacks that makes a great handout not just as festive gifts but team spirit items, school gifts and more.
Are you planning to adopt a Christmas themed promotion for your brand? Share your thoughts at ideas at the comments section below.
Share and Enjoy