Personalized Red Drawstring Bags Make Quirky Valentine's Day Gifts
Think Red, Think Valentine's Day! All over the world, people will celebrate this day in the name of love by exchanging gifts, chocolates, red roses and heart shaped gifts to convey their romantic feelings and regards to their lovers, friends and family. February has a romantic charm about it. The red roses and heart shaped gifts changing hands and cupid in a playful mood pairing up couples in love- it makes a great time to count the blessings of having loved ones in anyone's life and to celebrate love.
Valentine's Day gift industry has registered an impressive growth over the years. This year also the figures are likely to surpass the previous year's figure that touched $20 billion. Marketers will find this season a busy period to promote their brand and to rake in money. To lure more footfalls and to put steam into their V- day sales, marketers come up with innovative free gifts and special deals that will literally make their customers blush with excitement!
As red is the color of the day, red colored gifts will grab the spotlight. If you are looking for gifts that are a wee bit different than the classic choices of chocolates or roses, take a look at these high utility gifts of red drawstring bags. Simple, casual and easy to use, custom drawstrings enjoy a special place among bags. Check out these brilliant red colored bags that will make great gift bags and store promotional items. Do not forget to personalize these with your brand and message to add a personal touch.
Oriole Polyester Drawstring Cinch Backpacks: Budget friendly and highly popular, these polyester drawstring cinch backpacks offer a large storage space for your recipients and an equally generous space for your brand imprint. It makes a perfect custom gift to promote fashion brands, wedding planners, honeymoon packages and more.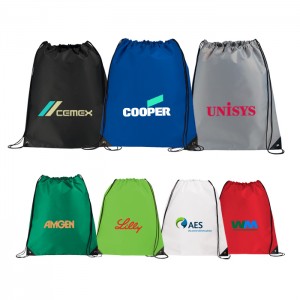 Robin Polyester Drawstring Backpacks: These backpacks have not just an attractive name but a beautiful design as well. The large imprint area will highlight your brand and message in an eye catching manner. If you are looking for a custom gift that will get across your message in style and build up a buzz for your brand, look no further than these brilliant bags that are well suited for daily use.
Drawstring Backpacks – Economy Polyester: These brilliant red, polyester drawstring bags will carry your brand wherever your recipients go. Personalize these with love quotes, artwork or more to make it attention grabbing.
Reflecting Stripes Polyester Drawstring Backpacks: Fashion meets functionality on these drawstring backpacks. The reflective stripes on the backpacks will keep your recipients safe at dark and trendy at day. Put your brand and Valentine's Day message on it to make it something special.
Your recipients will surely love the idea of getting these sturdy bags as their Valentine's Day gifts as they might not have got anything like that before. Get ready to paint the town in red with these popular gifts. Happy shopping!